OK, I am going to start this post by asking how much snow you've got. In Boston, we're measuring by Shaq. So hopefully the storm tomorrow doesn't add too much more, because frankly, we have nowhere to put it. The week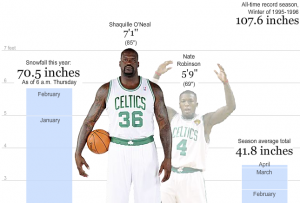 moved fast despite a two-day disappointing storm and hey, the Super Bowl is on Sunday and the groundhog didn't share his shadow, so we may get spring early! In world news, there is still revolution happening and despite what Kenneth Cole may have Tweeted, you should NEVER abuse a hashtag for tying promotional Tweets to them (click here to read more). What do you have on tap for the weekend? Hopefully it's a good one and I'll catch you next week, so sit back and enjoy this week's edition of Five for Friday, and just think reading this will make 5:00 come that much sooner.
The Future Of Buying Through Facebook – Let me just say that Facebook is not just trying to change the Internet. Mark Zuckerberg and company are looking to become the Internet. This piece in Forbes gives a good look at what the future of shopping will look like. If you haven't guessed there will be some Facebook integration.
16 social media statistics that might surprise you – How often have you done SM research to only come away with wondering where that stat you saw was. Well if you are like me it is a bunch. This post from my friend Arik Hanson goes into some that he had saved; I'll be copying his idea in the coming weeks with some factoids that I have squirreled away.
Crisis communications in-depth: Response protocol, playbook provide crisis insurance, assurance – This post comes from my can't miss Tweet chat, PR20Chat, hosts, Justin Goldsborough. It is the first of a five-part series on crisis communications and is worth checking out.
In Praise of the A-list – Have you ever been to a conference where there is this big speaker that you have to see or meet? You don't have to lie I am not taking attendance. It has happened to me and at times, I am clueless as to who they are, what they do or didn't learn something. Oliver Blanchard sums up a past experience of his and is an entertaining and offers an I can relate moment.
Management Tip of the Day: Add Structure to Social Media – You have probably heard about companies blocking social media because it is a time suck. While I don't disagree that it can be a time suck, it is not awful for companies, and can help them in the long run. If you don't want to take my word, would you care to look at this research from a small school in Cambridge, Massachusetts that you might have heard of – it's called Harvard.
Image – Boston Globe