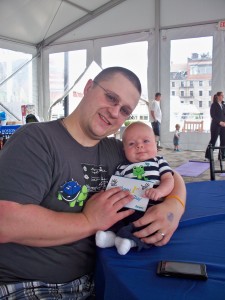 Man, I love short weeks. While I am off from work today, I am going to have my hands full with my first full solo day of kickin it with Baby Espo. I am excited, but nervous at the same time so it should be a barrel of monkeys. Well that or I will be losing what hair I have on my head. How was your week? Hopefully it was a good week for y'all as well. Catch you all on Monday, have a great weekend and enjoy this week's edition of Five for Friday.
Social Media is NOT as Popular as You Think – Despite popular belief and the online habits of most readers of this blog, social media is not as popular as it may seem. Well it is popular but is not the end all be all. Don't believe me? Well then peep out this post and accompanying graphic.
N.J. Town Wants To Ban Facebook Pictures Of Kids – As a new dad, I was kind of wary of displaying Baby Espo on social media sights. I am also from Jersey so this one so I kind of find this one interesting, but not sure the resolution will pass. How about you?
The Weird Thing I Want You To Do On My Blog – This is a guest post on Danny Brown's blog from Michael Schechter that stirred up a heated debate in the comments on selling premium content and giving things away on blogs. While the post stirred the pot, the heated debate in the comments is one not to miss.
Four Reasons You're Not a Media Company – Everyone can blog, the real question is should they? This topic comes up a lot now with companies entering the space. Many do it because it is cool and often fumble or leave it dead or full of jargon. So how do you avoid that? Well the answer is to follow these four tips.
There's an Easier Way to Create Standards: Conform – I love talk about social media and PR measurement. Rebecca Denison talks about the need for pros to adopt and conform to a series of measurement tactics and is definitely worth the read.