Over the past month, I tasked myself with improving my employer's monitoring and management of social media results and metrics. For the past year, we were with Radian6 and were happy, however we wanted more. The metrics that we were producing on our overall sentiment and equated net promoter score were great, problem was that they were in a vacuum. There was no benchmark against our competition and if we were going to expand our reports we'd have a number of hurdles to climb.
The biggest of these hurdles was adding a sentiment to the competitors was adding a sentiment to the posts. With Radian6, adding sentiment to posts, Tweets, videos, etc. is a very manual process that took a combined 10+ hours a week to do for monitoring our brand. So in a nutshell this was not scalable for our team to incorporate – which, at the end of the day, was the deal-breaker.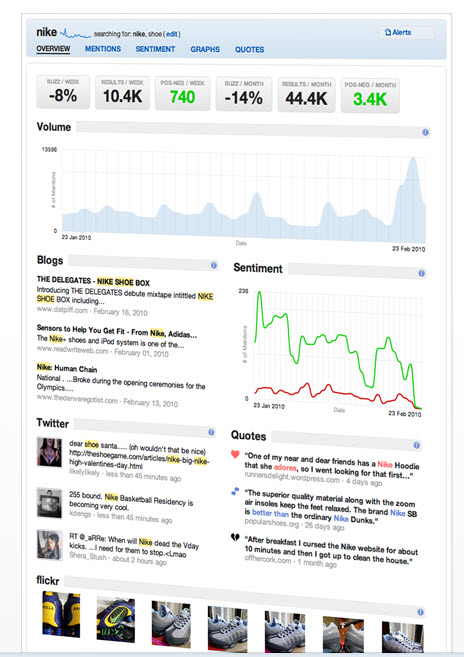 So instead of looking at tools in terms that the sales folks were tossing my way, I decided to let the tool run wild and then checked their results and sentiment against the results we were manually adjusting in Radian6.  At the end of the day we chose Scout Labs. Their mantra of working with clients to make the tool fit their needs, rolling release schedule and slick interface were too appealing to pass up.
So with that out of the way, here's what I found from trying various tools (in no particular order). Hopefully my experience with them can help you make a decision if you are looking for a first-time tool or to change services.
Radian6 – Despite the fact that we were leaving the industry leader, I would be remiss to dismiss their product. There is a reason that they are at the front of the pack – they bring in the most results and offer a slew of tools that I will honestly miss. However, for what I need in terms of the sentiment they were just not where I needed them to be.
If you do decide upon them, know that they have an awesome team and an even better support network.
Price – Starts at $500/month and $100/user
Scout Labs – As mentioned earlier, these guys took home the account. Scout Labs has a ton of cool features and shows everything in a nice clean dashboard. They also have a "smart engine" that filters out spam content from searches.
The interface shows everything in one screen similar to Addict-O-Matic, but are actionable within the tool and it also has a cool quote tool to show what kinds of things are being said in a snapshot. This is perfect for sending quick hits to executives who are looking for a sense of what's being said. With unlimited users, the tool can easily be shared with multiple parties including customer service, product marketing and the communications team.
Now in a sense of full disclosure, the tool does bring in fewer results than Radian6, but their sentiment is pretty close to what we were getting with our manual process.  They also have easy graphs that show conversation share.
Price – Starts at $199/month with unlimited users
SM2 – Amanda DeVito may be the hardest working sales rep that I have the good fortune of calling a friend for the past two years. The tool itself is very close to pulling the same results as Radian6, give or take a couple hundred results in either direction.
Their sentiment is one of the best in the space, but the interface is not the most user friendly and the graphs don't show percentages when exported. The initial startup for any search also takes some time to populate with the proper information.
Pricing – Based on results, the pricing starts at
M|Buzz – This is the tool that is being promoted from Meltwater. Many of the flacks reading this should be familiar with the company.
Their tool is a white-labeled solution of SM2 and the only difference between the two is the price.
Pricing – $13,000/year with unlimited searches, existing customers get the same rate for 15 months
Nielsen Buzzmetrics – Now this tool was awesome when I sat in the demo. It was a total hands-off tool that had the good folks at Nielsen analyze what's being said in the social space. They'll give you reports quarterly or monthly.
I am a noted control freak and would want to be hands on, so the "we'll handle it for you" approach didn't work for me. It was also a costly service that put it out of my budget.
Pricing – $40,000/year
ViralHeat – Looking for a tool that is dirt cheap and extends your buck? Well Viral Heat is for you. The tool is very basic, but shows a good snapshot of the viral aspect of your social circle and the conversation surrounding your brand.
I would not suggest it as a stand-alone product, but it is worth keeping for campaign tests and as a backup tool. I'm still pondering signing us up for this one for that reason.
Pricing – Starts at $9.99/month
Hopefully these reviews were helpful to you. Please let me know if you are using something different or think I am off-base on any of the reviews, I would be more than happy to discuss.