For a short week, it seemed like this week lasted forever. Despite being in meetings and away from my desk, I feel like the week was a very productive one. I am also glad to say that Scott Stratten's book Unmarketing came out this week and I am featured in it talking about Vistaprint's social media strategy. A book review is coming in the next few weeks, but if you want to check it out for yourself, click here to get it for less (Amazon affiliate link). How about you? How was your week?
Here's this week's edition of Five for Friday:
Bengals WR Chad Ochocinco fined $25,000 for using Twitter during game – Say it with me, No Fun League. Chad Ochocinco has probably been the number one poster boy for fines relating to on-field antics. This fine breaks the commissioner's no social media rule. Despite being fined 25K, the talented wide-out gave great responses to the fine. My favorite was this one: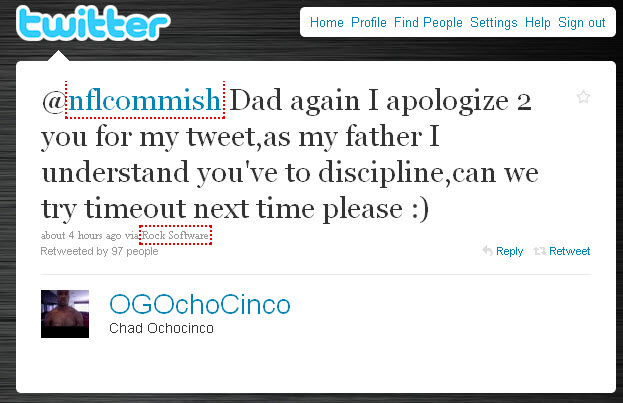 The Most Hated Man on Twitter – Everyone always wonders the power of social media. This campaign against Alabama gubernatorial candidate Tim James from Daniel Tosh shows how much of an impact a Twitter mob can have after a segment titled Is it Racist?, focusing on this video. The candidate's Twitter account was bombarded with venom and taken down after Tosh urged his audience to tweet their thoughts to the account of James.
How Social Media Is Helping Public-Relations Sector Not Just Survive, but Thrive – I love how AdAge highlights another benefit of hiring a PR agency. Social media is something that an entire organization hold stake in. It is a support the business channel and needs a communicator to lead the way. Hopefully this trend continues in the future.
Android Mobile Web Use Up 400% in Q2, Outpacing Apple & BlackBerry – I find these numbers interesting, but it makes sense as the iPhone is only on AT&T. What is interesting is developers gambling on excluding the medium for applications. While there are fewer applications for the platform, its growth can't be ignored.
How Much Can 'Jersey Shore' Cast Really Do for Marketers? – Now this one makes the list to show how far our culture has degraded. While the $5M that these reality stars can gain per year is great for them, think about the damage that one fist-bump to the face could cost a major brand?