Jeff Esposito asked me to write a guest post here on the topic of social media measurement. The following post is not about social media measurement.
Yesterday, Tac Anderson wrote a post about an issue I know too well: bloggers' neglect.
As I've been going through the list of people I follow on Twitter looking to see who has blogs that I should be following I couldn't help but notice a trend: people were neglecting their blogs.
I am guilty as charged. I am a reluctant blogger. My blog does not have a clear focus, and it is somewhere between a little bit personal and somewhat big professional. My posts are sporadic, and the SEO is MIA. A classic case of the cobbler's son, who has no shoes, since I work in social media. I would never advise anyone else to take my approach, but it is my blog, so I make and break my own rules.
Sure, we all get stuck in a rut, it is easy to switch our focus and to make excuses, to tell ourselves that Twitter and Facebook, often referred to as micro-blogging nowadays, are fine substitutes for blogging, right? Wrong. Writers love to write. We face writers' block, but we can't stop writing, even if it is on the back of a gum wrapper, and no one is reading our content. I suspect many of the abandoned blogs were created by non-writers or those who thought all the cool kids were doing it (blogging).  And perhaps the rest of those abandoned blogs were abandoned because those writers enjoy writing elsewhere?
During my own spell of modern day writers' block, Laura Fitton suggested that I do some guest posts on oneforty. Janet Aronica, oneforty's *ace* Community Manager, suggested some topics, assigned me  deadlines, and blogging became fun again. Since my first post for oneforty, I've gotten many inbound offers to guest post on various blogs, including here, and I am managing the blog in my new role at Seesmic. Guest posting is exactly what I needed to get back to blogging, even if it is not for my own blog.
Tac prescribed exactly the remedy that worked for me:
If you have a blog, go post right now. If you don't have a blog, start one, or at least start guest blogging somewhere (hint).
If you click on the hint, you will find the following: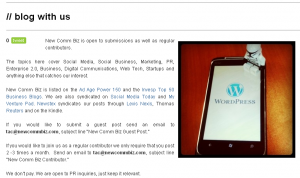 An opportunity to post on NewCommBiz? And zero retweets? Really? If you ache to write, feel antsy when you don't, worry less about establishing your personal brand or the rewards of a blog. Just write. If you enjoy writing on others' blogs or not publishing your content at all, that's okay, too. Guest posters are cool, too.
About Liza Sperling
Liza Sperling is the Director of Corporate Relationships at Seesmic.