There is no question that Twitter is my favorite social network. It is short hits that cut to the chase and there is no room for crap in 140 characters. I won't say it was love at first sight, but after about 100 Tweets, I was hooked.
I must also confess that I am a social media junkie, so my love affair and ease of use does not apply to the non-geeky populous who flock to Facebook like it was the last piece of dry land in Waterworld. Twitter is not easy and the interface is bulky, new users like my wife, find it clunky, overwhelming and at times dumb. To prove that those claims are not slander, it has been estimated that out of 200 million registered users on the microblogging site, only 20-40 million are active accounts.
Sure New Twitter and apps like Seesmic Look (remember the sensory overload launch?) aim to make it easy for users to get acclimated, but non-geeks aren't into 3rd party apps and want to use it on site. So it is a catch-22 of a hurdle that I didn't think Twitter could get past, until I saw the email below that my wife received yesterday alerting her that I @ replied to her: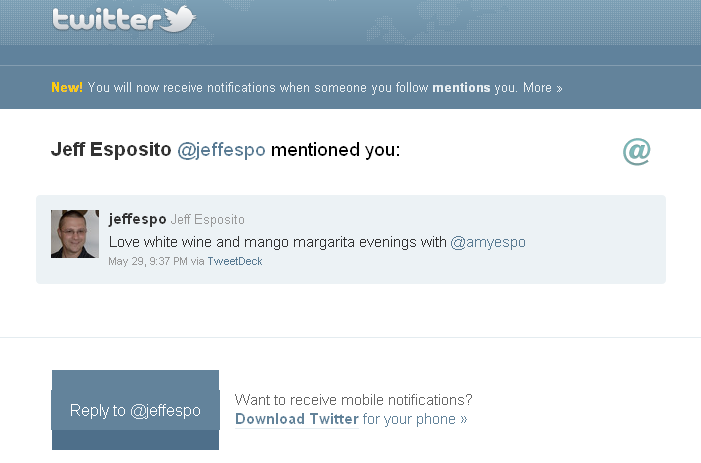 Now while I don't like these emails for me and haven't gotten emails from Twitter in months, it gives a call to action to return to the site. If I don't want to log in every day, I don't have to and is kind of like LinkedIn's alerts that draw me back to the site to accept or decline requests – which is the only reason I really ever log onto LinkedIn. I also love this email system because it shows the willingness and want from the folks at Twitter to get away from the tech-nerd community and get the cool kids involved with their service.
What do you think of this? Is it a gimmick that will drive people away from the service, or will it increase the migration to Twitter's flock?