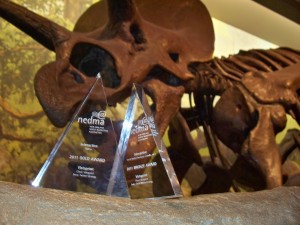 This was one heck of a week. On one hand we took Baby Espo for his trial run-through at daycare (time has flown) which made me both excited and sad. My team also headed to the New England Direct Marketing Association where we took home awards for top Twitter strategy (second year in a row) and third place for overall social media strategy. We also got to hang at the Museum of Science and see some dinosaurs; the triceratops to the left had his eyes on the hardware.  With all that going on, I almost forgot that we're on the verge of a long weekend. What do you have planned for the Fourth of July? No matter what you have on tap, be safe. Catch you all next week and here's this week's edition of Five for Friday.
Community Management is the New Black – This is a great post on what really goes into being a community manager from Lauren Vargas. The title is very hot right now and some even state that it might be dead, I for one disagree, and think we can all learn a lot from this savvy community manager who has held the title since 2006.
How 'branding' is ruining journalism – I love this take on personal brands from the Washington Post. Many people look at the "I" in everything before building up a solid reputation to go on. It is a worthwhile read no matter what side of the personal brand debate you fall on.
Journalists, PR Pros and Bloggers, Oh My! – Jeremy Pepper is a smart dude that I really enjoy conversing with on Tuesday nights in #PR20chat. If you don't follow Jeremy, I suggest you do it now. This post looks at the future of journalism and the creation of content.
When #measurePR met Klout – What do you think of Klout? Many love it while others hate it, I think they might be onto something, but at the same time know it is not the end all be all or even close to it. One thing that they do have down is educating folks on their product. This post from Shonali Burke recaps a #measurePR chat where Klout was the soup de jour.
Social networking utopia isn't coming – This is an interesting read on tribes and numbers of intimate connections one can really have and questions the kumbaya nature of social media – worth reading if you are still stuck at the office and looking to kill time.