This is a guest post from Jason Mollica. 
If you want to get a reaction from a public relations or social media pro, ask them about influence. You are sure to get answers from each end of the spectrum. Some will say influence is misconstrued as "popular." Others believe that follower numbers measure influence.
But is influence really measurable? Klout and Edelman believe it can be. To this day, I'm still not so certain.
Since Klout first launched in measurement tool in 2009, they have analyzed influence based on a user's ability to "drive action." According to Klout.com, "Every time you create content or engage you influence others. The Klout Score uses data from Twitter, Facebook, LinkedIn, and Foursquare in order to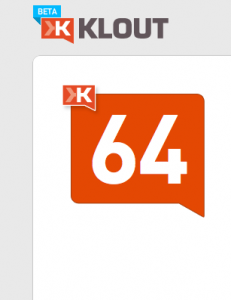 measure."
Just in the last year, Klout has begun to reward influencers with things likeSubway gift cards and exclusive content. In late July, Klout offered up music service Spotify to U.S. influencers (full disclosure, I received an invite and accepted).
Klout has come under fire though as making influence a popularity contest. And with influencers now getting rewarded for their scores, it in many ways back that angle up.
TweetLevel, also launched in 2009, is a Twitter measurement tool created by Edelman. By putting your Twitter handle into the page, it determines how influential and popular I am. For example, take a look at this graphic from my analysis at TweetLevel: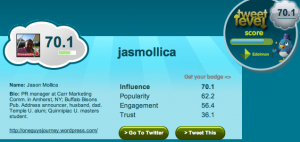 According to the 70.1 score, I am a "Twitter Superstar." However, my trust score is 36.1, which means I'm not retweeted enough. So, how can I be a "superstar," but have low trust? Conversely, Klout doesn't mention trust in their parameters. That's why I continue to believe that you can't accurately measure a person's influence in social media.
I do give Edelman credit though. They are continually tweaking their influencer tool. From the TweetLevel website:
"Even though we believe that it goes a great way to understand and quantify the varying importance of different people's usage of Twitter, by no means whatsoever do we believe we have fully solved the 'influence' problem. What we would appreciate is your views, advice and criticism is crucial in helping us understand social media measurement."
What's the take away on social media influence? I don't discourage you from using Klout and/or Edelman's tools to check your numbers out. But, I wouldn't take these scores very seriously. Influence should be based on a track record. Look at people like Deirdre Breakenridge and Brian Solis. They are always spreading knowledge and have published books that are considered "must haves" on social media usage.
I don't need a score to tell me what they bring to the table.
Jason Mollica is a public relations manager at a strategic marketing and PR firm near Buffalo, N.Y. He's also a social media strategist and consultant. You can find him on Twitter, @JasMollica, and at his blog, One Guy's Journey.