If we have ever interacted on the social web or read this blog, you know that I am passionate about is social media measurement.  Many people say that it can't be done or that only unicorn and rainbow numbers can be measured. To that I say bullshit.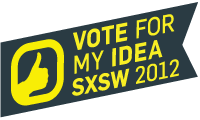 For this year's South by Southwest conference, I have gathered a group of friends who are passionate about the topic including Eric Berto, Rebecca Denison and Erin Korogodsky. For us to get on the docket, we'll need your help as the conference asks attendees to vote for panels they find interesting.
Our panel is titled What you should be measuring in SM and attendees will walk away with answers to the following questions:
What can I measure beside fans & followers?
How can I tie revenue to social media?
How can I tie cost-cutting to social media?
What should I be measuring?
Why didn't I think of this sooner?
Click here to check out our panel and if it sounds interesting and you would be interested in voting, I would appreciate the nod. If you think the topic is off base or if the self-promotion offends you, please let me know as well (tune back in Wednesday for a fresh new post). This will be the lone post pimping out the panel.