I like getting free stuff. I am not ashamed and in all honesty it is one of the few reasons why I keep my account with Klout.
According to their algorithm, I am influential enough to have brands send me things. Not entirely sure how it works, but I've gotten some truly random things from them that I have used or given to friends and co-workers. Overall, I there have only been a few promotions that were truly been relevant to me, so when I received an email that OneHopeWine.com was giving me $25 towards some wine I was excited.
Only thing better than free stuff is free booze.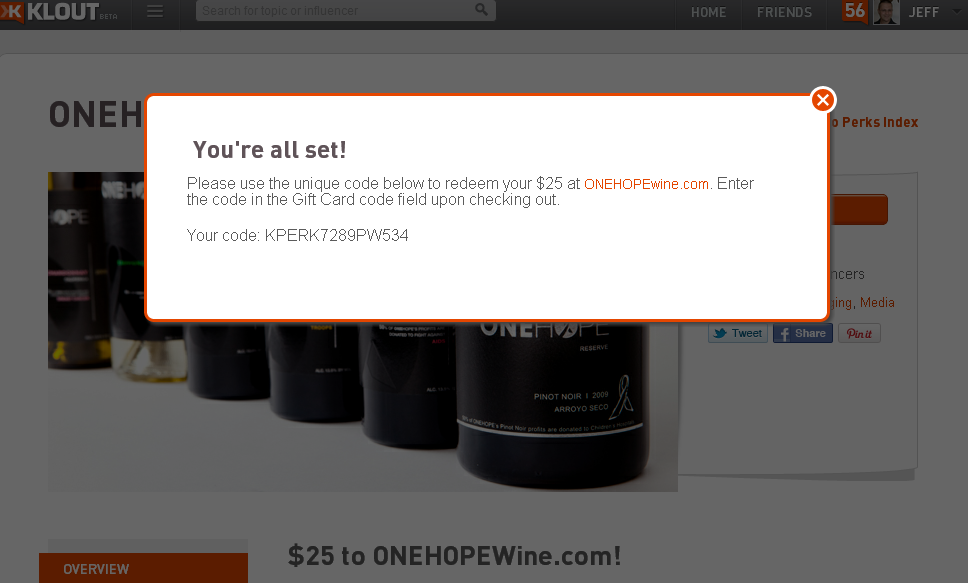 So I followed the link and perused the site a bit. After seeing that the wine was for a charity I was thinking of purchasing a few bottles beyond what the $25 would get me.
When I checked my cart and began to create an account, I had a nice little error message pop up that the company could not ship to me because I live in Massachusetts.
Total buzzkill.
While it sucked the whole joy out of my Monday morning, the whole incident could have been avoided if either OneHopeWine.com or Klout used a few filters.
On one hand OneHopeWine.com could have said to their rep at Klout, exclude users from these states because we cannot ship to them. On the other the folks at Klout could have done some research on the topic to offer a full end-to-end experience.
Regardless of who could have prevented it, it left a sour taste in my mouth.
For OneHopeWine.com it is unfortunate because their model is awesome, but they made a poor first impression on someone who was probably going to make a $100 order or so.
For the "Standard for Influence," this is just another snafu that leaves at least one user shaking his head and questioning what the hell they are trying to accomplish.
At the end of the day, it is important to know who you are targeting.