Do you know what types of customers are connected to your company on social media?
I am sure some of you do, but I am willing to wager that the majority of companies out there have some guesses, but not much beyond that.
It might sound like something trivial, but marketers and communicators working in social media are going to need to know it as more C-level executives turn their eyes to the Twitters and Facebooks of the world. So instead of playing turtle or ostrich with your head in the sand take a deep breath and get ready to do some dirty work.
If you mumbled this sounds hard, or I can't devote time to this now under your breath, I can see where you are coming from. Unfortunately if you can't find time to start developing a profile of your social customers, your company will eventually find someone who can.
So now that we've gotten that out of the way, below are some steps for you to start building out the profile of your social customer.
Know what types of leads or sales are coming into your business via social media.  On the dollars and cents side using a special deal or coupon that links back to a social channel can help you see the fruits of your labor. A good tool for this is PageModo where businesses large and small can build out a coupon on a custom tab on Facebook (disclosure – Pagemodo is owned by my employer Vistaprint and I was a fan before the acquisition) that can be redeemed either online or in person depending on your business model. If tracking leads is one of your key performance indicators, a service like Bit.ly or Google analytics can show the traffic driven to your site from social media. Depending on your CRM system, you can tie individual customers back to social profiles.
Look at the inbound chatter your company receives on social outposts like Facebook, Twitter or Google+. Break out the sentiment for each of these posts. You can use categories like love, hate, questions, prospects or super fans. Map the buckets to how the rest of your company looks at customers. Once you have sifted through 1-3 months, you can build out profiles that fit into these buckets. This is going to take some time to do, but is beneficial in the long-run as you will be able to gauge shifts in customer behavior as your social programs grow. Tools that can do this for you include Lithuim Social Media Monitoring, Radian6, Spiral Heat and Crimson Hexagon.
When you have the buckets and some revenue information, build out a more robust profile that you can use as guide for your business in terms of the types of social consumers who are connected with your company. For example take a look at the profiles my team at Vistaprint looks at: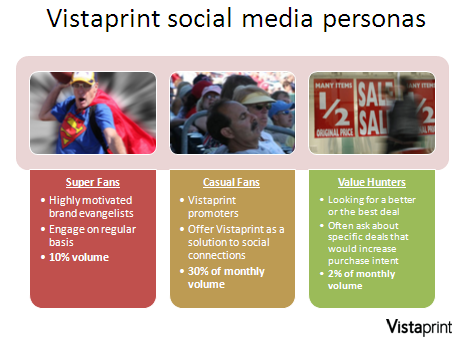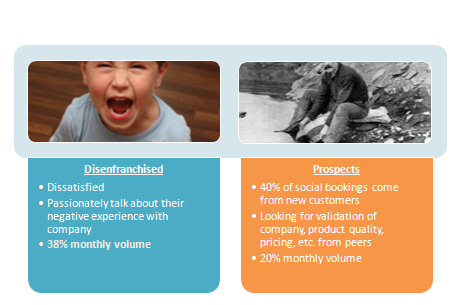 This is not an exact science and a lot of the data pulled is subjective to human sentimenting and point of purchase sales data, it is a good place to start and is something that will continually evolve. As the social space evolves we'll see more robust tools and text analytics systems that will make creating these segments much cleaner.
Wait, you're still reading? Great, but get to work mapping out your customers.