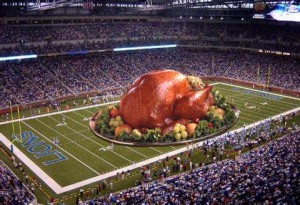 During the course of the NFL season we predict the weekly outcomes using data from social media along with some formulas (more on that here). While this might sound odd, our social NFL predictions are doing decent 11 weeks into the season with an 86-73-1 mark following a 9-5 showing in Week 11.
Since predicting games is only fun if you do it against a friend, I decided to put my money where my mouth is to an extent. During each week, I enlist a friend from across the Web to pick the games against the ones from social media; the top weekly picker will get $100 to a charity of their choice. This week's contestant is Bob Cargill (@cargillcreative on Twitter). The current leader in the clubhouse is Gini Dietrich who selected 12 correct games earlier in the season. Check out the video below for this week's picks:
Week 12 NFL Predictions
CARGILL: HOU, DAL, NE, CHI, CIN, PIT, IND, DEN, SEA, ATL, JAX, BAL, ARI, SF, GB, PHI
SOCIAL MEDIA: HOU, DAL, NYJ, CHI, OAK, PIT, IND, DEN, MIA, ATL, JAX, BAL, ARI, NO, NYG, PHI
What do you think of this method? Think you can pick them better? If so, drop your picks in the comments below.