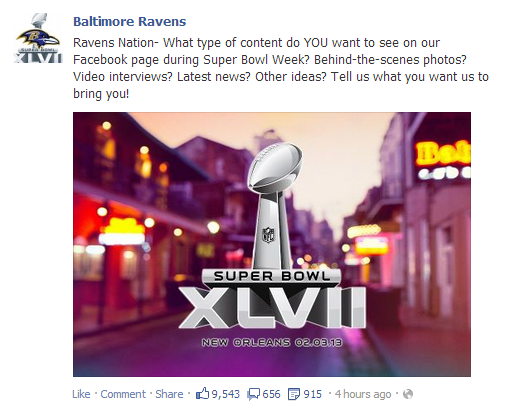 Over the weekend I saw a post  (on left) from the Baltimore Ravens asking fans what they wanted to see on the team's Facebook page during the week of the Super Bowl. As a fan, I thought it was a pretty cool gesture to the fans; as a social media manager, I loved how they asked their fans for what they wanted to see as opposed to content the brand wanted to share.
Through the early part of the week, the team has lived up to the offer of giving fans what they asked for. Aside from the behind the scenes photos of the team's travels to New Orleans and Media Day, the team's social media team incorporated the fans into the Media Day experience soliciting questions that the team asked the players.
While every brand will not have the exciting happenings of a team preparing for the Super Bowl, I do think that companies of all sizes can take a few pages out of the Ravens playbook for their social media efforts including:
1)      Ask the fans what they want – every business offers something that their customers want – don't be afraid to ask them. Your ideas of kick ass content might be different from theirs
2)      Make it relevant – customers in your community want to know that you are relevant. So keep up to current events and share information that is timely
3)      Make it special – one surefire way to get your customers engaged with you is to make the content shared socially about them. Sharing their case studies or a special experience with them can go a long way to making them feel part of your company or its mission.