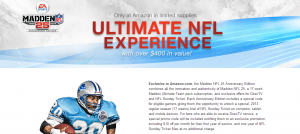 Have you ever seen an offer that seemed too good to be true?
Have you ever jumped on an offer that seemed perfect only to find out that there was something else that came with it?
Chances are you answered yes to both of those. It's OK, we all have.
We get drawn in by the shiny object of our desire and forget to read through the fine details. They are often in tiny print or have a tick box that we can get rid of just to get what we want. Think about it, have you ever read Apple or Facebook terms of use when setting up an account or getting an update? <You don't have to answer that either>
We all know that there is no such thing as a free lunch but we do get caught every now and then. So it always feels good when you catch yourself before getting hooked for the add-on.
On Friday night I was playing Madden online and saw a callout for a pre-order for Madden 25. If you were to buy via Amazon, you would get 17 weeks of DirectTV Sunday Ticket for mobile, tablet and computer. That got me excited – almost excited enough to tell my sleeping pregnant wife about, but I decided to wait until the morning – because I live outside of Boston and unless the Ravens are on national TV or hosting a nationally relevant NFC team, I have to go to a bar or follow along online to catch games.
The next day I logged into our Amazon account to check out the deal. For 99 bucks it was worth looking into the preorder since the game itself costs 59 dollars and hell I could watch a game on my iPad wherever I wanted. About 20 seconds into reading the page I was caught up with:
Edition includes a special code for eligible gamers giving them the opportunity to unlock a special, 2013 regular season (17 weeks) trial of NFL Sunday Ticket on computer, tablet, and mobile devices. For fans who are able to receive DirecTV service, a special promo code will be included entitling them to an exclusive promotion, including $10 off per month for their first year of service, and one year of NFL Sunday Ticket Max at no additional charge.
I couldn't tell if I was an "eligible" customer or a customer "able to receive DirectTV." So I scrolled down the page and saw this in the FAQ:
Do I need a DirecTV subscription to access NFL Sunday Ticket?

No, it's not necessary to have a DirecTV subscription. Each Anniversary Edition includes a code that can be redeemed to access the full 2013 regular season (17 weeks) of NFL Sunday Ticket on computer, tablet, and mobile devices.
The wording in the intro paragraph and FAQ was somewhat conflicting and really super vague. So I called DirecTV customer service to find out. I was transferred from agent to agent until the third agent agreed to help me. After she searched for a good 10 minutes she noted that they did in-fact partner with EA Sports (makers of Madden) and Amazon, but this was a bait and switch geared at customer acquisition. She also noted that while the deal would get me to see all the NFL games that my bill would also be higher than the one I have with Verizon now.
While I appreciate her honesty, I wonder how many folks playing Madden online who have seen the ad have fallen for the gotcha. From a business standpoint, I think it is pretty good (albeit sneaky) but as a consumer I feel a bit icky – and I was a diligent consumer who slept on it. If I had purchased on Friday night when I got real excited about the game I'd have been one pissed consumer.
It could have been avoided, but hey when has marketing ever been honest? Have you been caught up in a free lunch or beaten one lately?