Over the past few weeks, we saw unprecedented news coverage of a revolution in Egypt. Despite a lack in initial traditional media outlets and internet sources due to government intervention, the people were able to be heard via social networks.
These networks were not the underlying reason for social change, but rather served as an avenue to provide the world with an unfiltered account of what was going on.  The revolutionaries got THEIR message out about the CHANGE that THEY wanted.
We are living in a day and age where real change is being made around the world and playing out in front of our eyes on the social web. Here are some interesting numbers that were passed along to me from my friend Dennis who works at the The American University in Cairo:
Egypt gained 632,120 new Facebook users from January-February, 2011 an increase of 12.16%
On February 1 (the day the Internet was turned back on) Egypt gained 100,000 new Facebook users
Globally there were 1,317,233 Egyptian related Tweets between January 24-30
Egypt leads African nations with ~5.2M Facebook users, despite having only 6.46% of the country's Internet population on Facebook.
Egyptian Twitter adoption grew 10X in January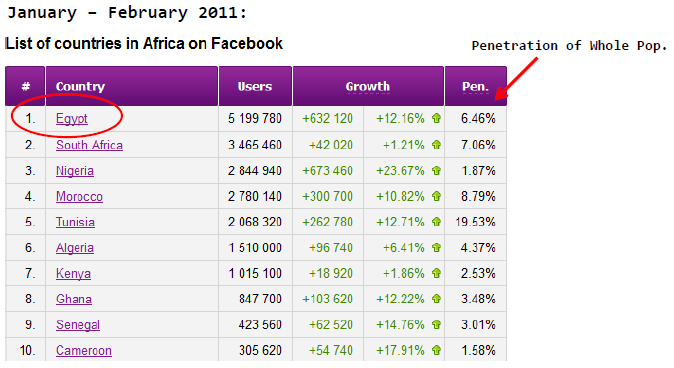 To see the full presentation and graphs from the folks at .digitalrepublic|, click here.
While the numbers are spectacular, the pale in comparison to what the Egyptian people were able to do. Times are changing in both how politics and the news are being played out. Do you see this as something that will grow in the future?  I think we'll see it more, but hey, who knows, I could be wrong and would love to hear your take.