This is a guest post from Nick Gosselin.
As Benjamin Franklin once said, "There can't be good living where there is not good drinking."
So true Mr. Franklin, so true. For those who know me, I'm an avid craft beer enthusiast interested all facets of the industry. I enjoy keeping tabs on what my favorite brewery's have coming down the pipeline, as well as chatting with other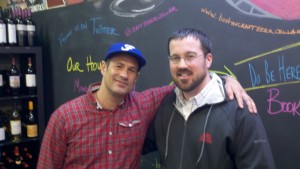 enthusiast (we usually call them beer nerds) about what they're drinking and attempting to brew at home. Through the years I've grown to realize that "beer people are good people."
So when the explosion of location-based social networking websites began popping up, I was excited to see that developers were looking to create platforms around checking into different beers. Finally! A social network that I can get on board with (I fully admit I don't go out enough to lead and exciting Foursquare life). Early into researching different sites, I was drawn to a website based check-in site called Untappd (with a smart phone application hopefully coming down the road). Untappd allows me to share a brew that I am currently enjoying, as well as where I am enjoying it, with my friends on Untappd as well as link my check-ins to my other social media profiles such as Twitter and Facebook. And if I am curious about what my fellow beer nerds are drinking (you'd be surprised, I am curious from time to time), I can just check out their Untappd profile! While at their pages, I can comment on their share and ask questions on how it tasted and where they purchased it.
Want to learn more about Untappd and other location based check in sites for beer lovers? I suggest this recent post from Mashable.

But Nick, I don't care what you're drinking! And that's OK! I'm not offended. Let's face it… not everyone you follow on Twitter is going to peak your interest with every tweet they send out. For me personally, I used to never see the value in location-based sites such as Foursquare or SCVNGR because like you not caring about what was in my pint glass, I didn't show much interest on where you were eating dinner. But over the past few months I've found myself reaching out to folks and asking for quick reviews of the places they visited and if they'd recommend it. That's valuable intelligence that started with a simple check-in. And hey, if you happen to catch a tap list, let me know what you see!
Cheers, and thank you for reading, this has been fun!
Nick is a fun-loving beer enthusiast from all around New England. Connect with him on Twitter and Untappd.