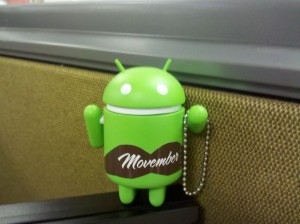 A short time ago, I was in the heart of Austin with countless others navigating all that was South by Southwest.  During which, I realized that my Android was much cooler than I previously thought. Now I am usually minimalist when it comes to these things, but below are four that I'd be lost without.
Foursquare – Like many folks, I have been anxious to see which location-based application would come out as the clear leader in the space. Going in to the conference, I was expecting big things from Gowalla and SCVNGR, unfortunately for them foursquare 3.0 was launched a few days before the conference. Without a question the new features including the leader board, messaging, additional contact options, nearby deals and the ability to get alerts to friend check-ins made foursquare the clear winner of all companies at the 25th anniversary edition of SXSW.
Google Maps – Being my first time to Austin, I couldn't tell my ass from my elbow. So needless to say, I was lost and out of my element – as were many of my SXSW friends. Instead of asking for directions or hailing a pedicab or taxi, we fired up our smartphones looking for the best navigational tool. We tried out a few of them, but Google Maps was the quickest and drained the least battery. It now has a place on my phone's desktop and will be used every time I head to a new city or for some reason get lost wandering around Boston.
Seesmic for Android – Twitter is my favorite social platform, and for that I have no shame. I am addicted to 140 character nuggets and see it as a useful professional and personal communications tool.  So keeping it on my phone was a no brainer.  I went through dozens of apps before finding the one that worked for me – Seesmic for Android. The earlier versions of this app were kind of clunky but the newest iteration is sleek and my Goldilocks.
Weather Channel App – No one likes under or over dressing or getting caught in a storm.  The Weather Channel's app helps you see what weather is like in your city or a city you are visiting helping you prepare for the best or worst weather.
I know these apps aren't overly exciting to many folks, but they make my life a lot easier. Are there applications that you could not live without? If so let me know below and maybe I'll find something that will blow my mind.