Over the past two years I participated in a challenge that I heard about on my friend Arik Hanson's blog to read a set number of books. In each of the past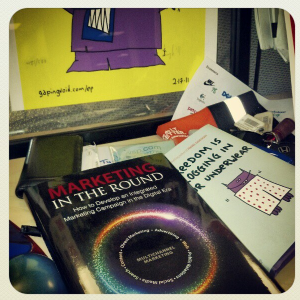 two years I met my goal of surpassing 30 books in the calendar year which helped keep my mind's creative juices flowing.
This year, I have decided to take a step back and lower my number to 20 books with the hope to read something  that either brings me into more of an imagination plane of thought or to take me outside of my comfort zone. The exceptions will be some books on parenting my youngin or peeping out friends books that are coming out this year.
I challenge you to think about turning off the tube for a bit and reading more in 2013.
Below is the list of books I read in 2012 (hyperlinked books have reviews):
Home Buying Everything You Must Know
The Social Media Strategist
The Pursuit of Happyness
How to Sell Your House for More Money
Out of Oz
Sea of Monsters
The Titan's Curse
The Count of Monte Cristo
The Storytelling Animal
The Hunger Games
The Hobbit
Catching Fire
Mockingjay
Brewing Better Beer
That Book About Harvard
Battle of the Labyrinth
The Last Olympian
Cloud Atlas
Amazing Things Will Happen
Muck City
The Complete Works of Edgar Allen Poe
Texts from Dog
I'd like to hear about books you'd recommend.